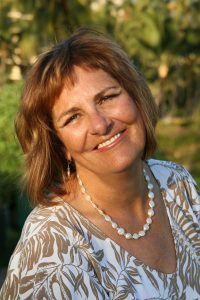 Life changed for this California native in 1972. That's when Mara and 5 friends sailed across the pacific on a 60 foot sail boat she helped to build. After touching land at Kealakekua Bay on the Big Island of Hawaii, Mara never looked back. Island life suited her. She got involved in real estate projects and invested in the islands which included the purchase of an organic coffee farm. In the mid 1980's, she permanently settled in Hawaii, started her real estate career, made a success of the coffee farm and had a joyous time raising her daughter Lanikai.
Mara's genuine passion for Hawaii is just as strong today as when she sailed into Kealakekua Bay over thirty years ago. She now makes her home on Maui where she is recognized as one of Maui's most outstanding real estate agents. She knows the condominium market better than anyone. It's her specialty.
You'll find Mara's work ethic is second to none—a rare trait in the laid-back lifestyle of the islands. She continues to learn and study the real estate business. Mara is a Graduate of the Real Estate Institute, earning her GRI credential in the early 1990's. She does what it takes to be sure you are well-informed and all your concerns and questions are addressed. This attitude makes for happy and satisfied clients, evidenced by the number of repeat customers that continue to use and recommend her services.
Mara has made giving back to the islands an important part of her life. She has supported and volunteered time to many service organizations over the years. She shares her love of music at Camp Pescusa's Annual International Music Camp for Children.
In addition to her commitment to real estate and community service, Mara takes time to enjoy the fruits of life. Her passions include her daughter, Lanikai, now a college student on Maui. Mara is an avid student of yoga and Hawaiian culture. She has begun work on her golf game and loves to cook. She still has a need to be on, in or near the ocean and there is no better place than Maui.
With Mara as your guide, your Maui real estate experience will be informative, stress-free, successful and fun. Call her. Put her aloha spirit to work for you.
Mara Lockwood RB-20099
808-281-6460 (direct)
Mara@MauiPalmsRealty.com