Ask any golfer and they'll tell you the ultimate shot is a hole in one. Although Greg Buster can say he's made a hole in one twice, the fact that he can enjoy this hobby and a lot more on a daily basis is what makes Maui the ultimate "whole in one." Whether it's being able to see the awe-inspiring sunsets over the ocean every evening, snorkeling in the crystal clear water or dining at the world-class restaurants, Greg knows that everything he'd ever want in a place to live is all right here on this one beautiful island.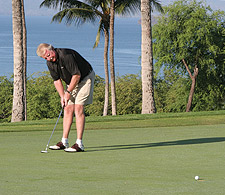 A Personal Epiphany
For Greg, life's priorities were put in perspective at an early age. When he was in high school, a near fatal accident and almost losing the ability to walk made him realize that life is too short and fragile to take for granted. From then on, he decided that everything he did was going to have one objective—to enjoy life to the fullest. Growing up in a small Colorado town, Greg grew attached to the close-knit, family oriented atmosphere, but yearned for an environment with more opportunity. After earning a degree in business, he picked up and moved to Denver.
Water Seeks Its Own Level
Greg enjoyed the amenities of the big city, but knew almost immediately that the traffic and fast-paced lifestyle just wasn't for him. When he visited his father in Maui for the first time, he saw what he'd been missing. It had the small town feel of his childhood home where people know your name at the local grocery store, but it also possessed a scenic beauty, abundance of recreational activities and relaxed atmosphere that are unparalleled. And every day that Greg makes the short walk from his back door down to the beach and feel the warm water at his feet, he counts his blessings.
The Embodiment of Maui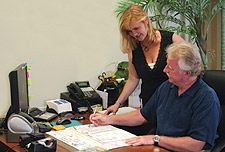 When Greg decided to put his passion for and knowledge of Maui to work, it was a natural decision for him to help others make the most of their home sale or purchase here. His reputation as one of the area's leading real estate agents is defined by his ability to give clients a wide range of expertise as well as make the process smooth and enjoyable. With over 30 years in the business, an intimate familiarity of the area and a no-pressure approach, Greg continues to make a name for himself as the professional who offers everything people could want in a real estate agent. In short, he's the whole package.
The Total Professional
Throughout this period of transition, Greg works diligently and conscientiously to ensure nothing is left to chance. Whether people want the ideal vacation home or are interested in selling their residence for top dollar, he arms them with the guidance and information they need to make a sound investment. From consultation to closing, Greg prides himself on alleviating the guesswork and providing a level of insight not often found.
When you're ready to buy or sell a home in Maui, look no further than Greg Buster. When you want The Ultimate Resource for your next move, he's only a phone call away. Call him today for a free consultation.
Greg Buster RS-43647
808-283-5381 (direct)
Greg@MauiPalmsRealty.com